This recipe is an update from Thanksgiving. I cooked two whole chickens for the first time, and my family loved it. I'm cooking more, and being a good cook means more time in the kitchen, experimenting, and tasting. I'm very proud of my orange, lemon, honeyand  rosemary chicken.
Earlier in the day, I prepped the chicken, and later that night we watched The Menu. I was proud to be in the chef's headspace.
This dinner was a lesson on waste prevention because I am on a minimalism journey. So I saved and reused spices, stock, seasoning, etc as much as possible. Eventually, I'll be able to compost.
To see the process, visit my TikTok.
Produce
1 whole chicken
7-10 Fingerling Potatoes
1-2 Broccoli stems
1 Sweet Potato
1 squash
1/4 onion
Spices/Seasoning/Flavor
2 sprigs thyme
2 sprigs rosemary
1 orange (zest. 1/2 for freshly squeezed juice, 1/2 slices)
1 lemon
Olive oil
Lemon Peel seasoning
Salt
Pepper
2 Tablespoons Butter
3 garlic cloves
1 Tablespoon honey
Non-Food Needs
Zip-lock for chicken
Hand/Pulse Blender
Wire Rack
Aluminum Baking Dish
Aluminum Foil
Cleaning The Chicken
I boiled some water in my kettle and poured some inside the chicken cavity and then down the drain. I did the same on the outside and once the chicken's skin cooled down a bit. I used 1/2 a lemon  to clean the entire outside of the chicken.
Prepping My Citrus Chicken with Seasoning
For Christmas, my fiance's friend got me an Epis seasoning jar. Epis is spice in Haitian-Creole. It tastes ok, but it doesn't have a unique flavor, so I channeled my mother's cooking.
In my hand blender, I threw in the sprigs of rosemary and thyme, 1/2 freshly squeezed orange juice, tablespoon of honey, 2 minced garlic cloves, added a dash of lemon peel seasoning, orange zest, and some salt and pepper. After blending the mix, I added 1 tablespoon of butter and olive oil to thicken it up a bit. So it would stick to the chicken skin.
I grabbed a ziploc bag, placed 1 sprig of thyme and rosemary inside the cavity, along with some of the epis, and some hot sauce into the cavity, and the rest I poured into the ziploc.
I always close the bag, leaving a small opening to push out all excess air, then seal it shut. Now, I toss and rub the juices around the chicken and bag. After my initial mix, I opened the bag and added the remaining  orange and lemon slices, tossed in some additional salt, sealed the bag again and rubbed the citrus and juices all over again.
The bird goes in the fridge overnight, and in the morning the bag is to flipped over
Oven Cooking My Citrus Chicken
I found this chicken cooking style from David Chang on TikTok. My initial recipe called for 375 F at 20 minutes a lb. But I wanted to try something new. David called for 225 for 2.5 hours and I followed.
Before placing the bird in the oven, I cut both potato styles into 1/2 inch pieces, placed them in the pan and placed the chicken on a rack so the chicken flavor would soak down. I added a spritz of olive oil and some light salt and pepper.
I drained the bag using a colander to get stock from the juices and to separate some leftover seasoning for my roast coating. I placed butter into the cup with the seasonings and melted it in the microwave.
The chicken went in for 2.5 hours and it was time to wrap up!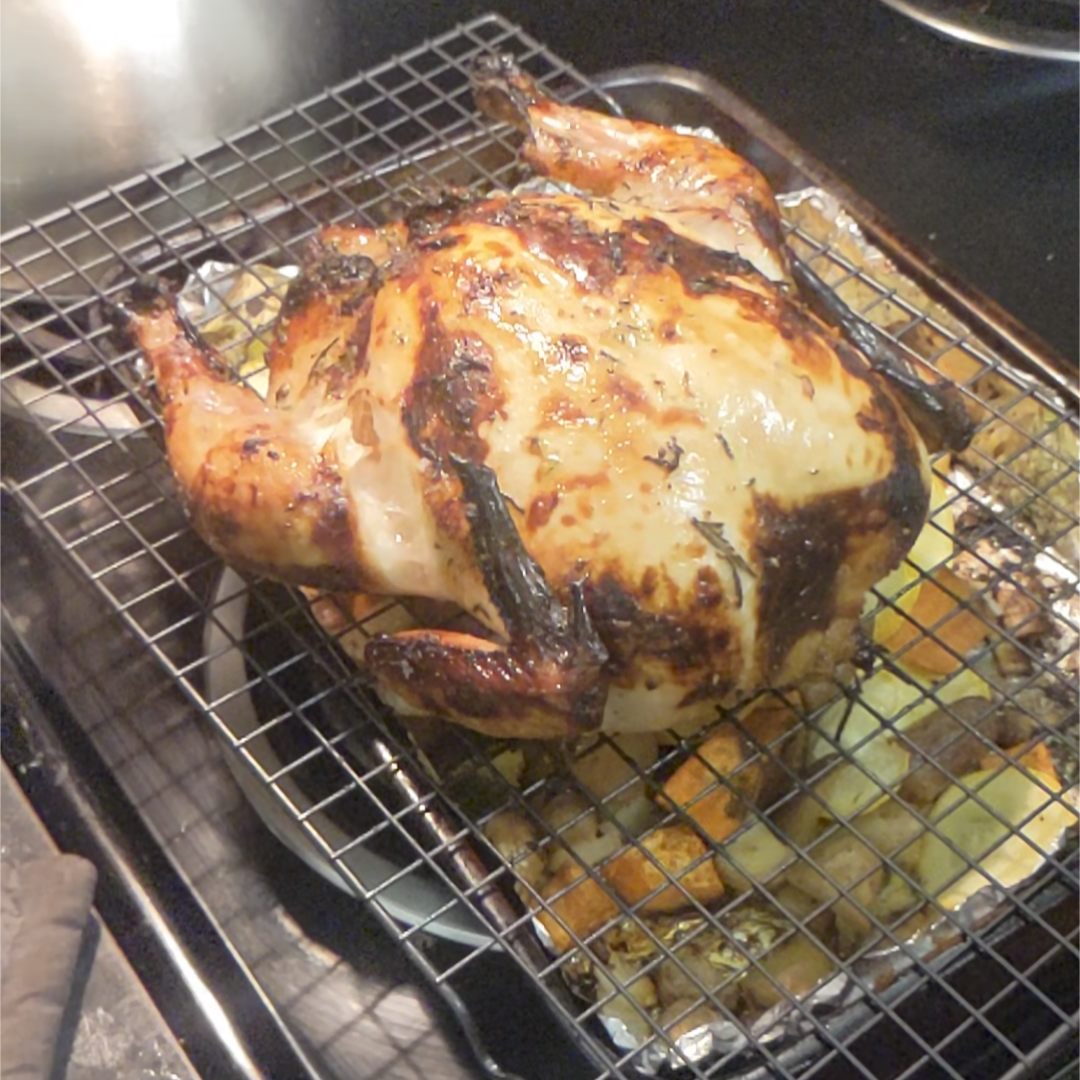 Adding Some Color To My Chicken
I really enjoyed the slow cook because I didn't feel rushed or worried about the chicken drying Once my timer went off, I pulled the chicken out and set the oven to 500 while I cut up squash, onions, and broccoli. David's secret called for a 10-minute roast to get color, but I did 20 minutes because my chicken was larger.  
I grabbed my thickened butter mix and smeared it over the chicken to get a nice golden glow. Followed by one last spritz of olive oil.
The chicken was so juicy. Damn. The only thing it needed was more salt and more even coloring. I'm sure if I had real fire oven it would cook better.
Cheers to the next meal!
If you enjoyed this recipe, send me an email, or drop a comment on my Tik Tok video.