A first-generation Haitian-American man navigating inherent trauma triggers of his childhood.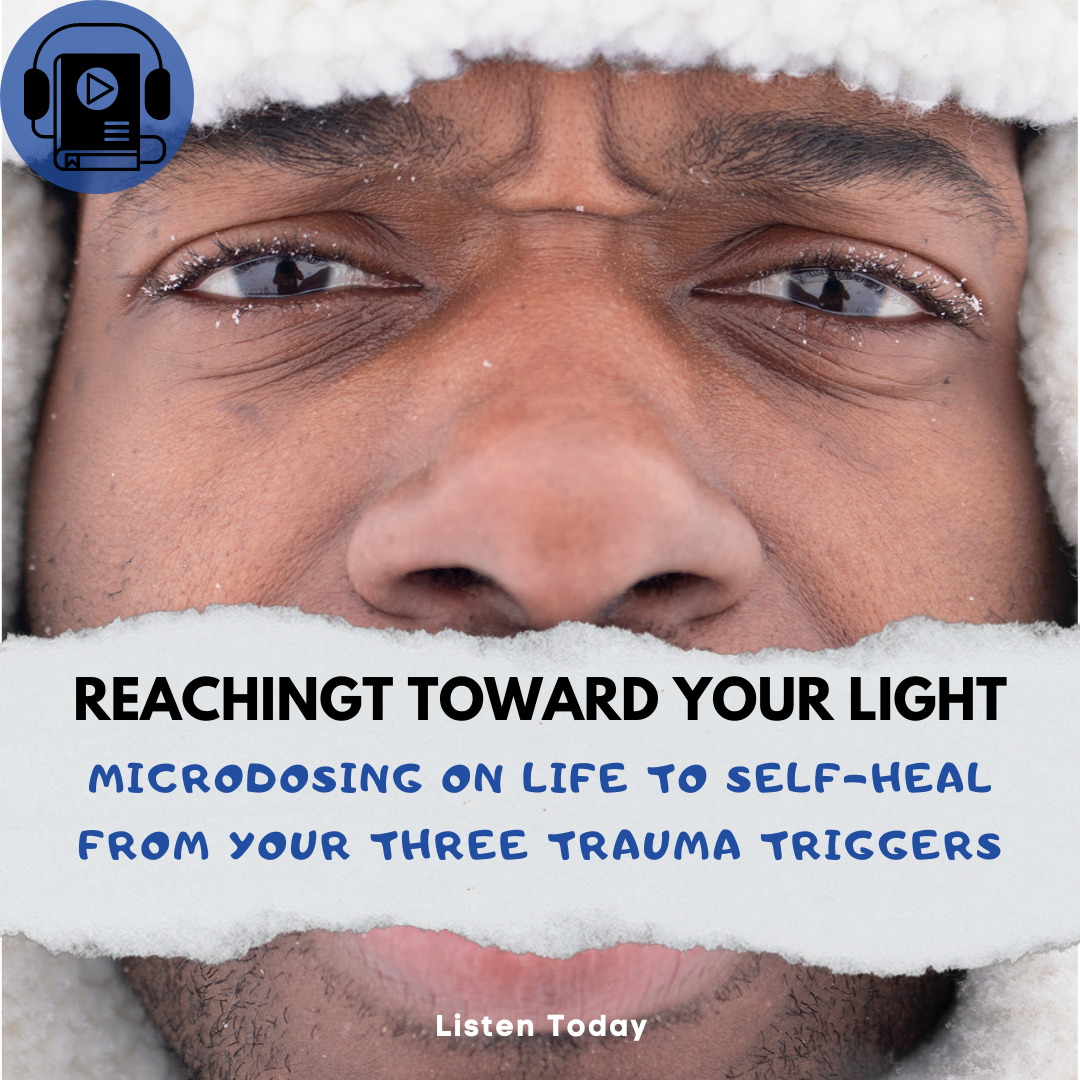 REACHING TOWARD YOUR LIGHT: MICRODOSING ON LIFE TO SELF-HEAL FROM YOUR THREE TRAUMA TRIGGERS
is a mental awareness and self-help memoir centered on healing from isolation, trauma, and limited ideologies sparked by personal, social, and spiritual trauma triggers.

"Rejection is my birthright."

Clifford's primary personal trauma sparked at the age of six when he learned his biological father was murdered. As a first-generation Haitian-American, Clifford inherited the historical social trauma of the Black experience that devalues Black existence. And the spiritual trauma of losing his faith as a born-again Christian in his mid 20's, ignited the trilogy of traumas that led to nightly panic attacks from thanatophobia.

Unhealed and poorly managed, these three traumas led to depression, misanthropy, and inevitably, thanatophobia. Masking depression, fear, and hatred were easy as an alcoholic. Clifford was used to suffering in silence, so he didn't mind the three years of nightly panic attacks that followed because they happened in the seclusion of his bedroom. But after masking a panic attack on a rush-hour New York City subway with a flask in hand, he knew he was becoming powerless against his traumas.
After his first panic attack, Clifford was willing to see a therapist, but the white faces in his online search reaffirmed that therapy wasn't a space for Black people. Plus, what could a white therapist say to calm the trauma of Post Traumatic Slave Syndrome, the tragic history of Haiti, or the ongoing disregard for Black life. Forgive? No. Forget? Never.
From the isolating streets and dreary gray skies of Brooklyn, NY to the sun-kissed shores of South Beach Miami, REACHING TOWARD YOUR LIGHT navigates the discovery of Clifford's trilogy of trauma triggers and the empowerment that followed from leaving Brooklyn and finally confronting his fears and himself on South Beach's shore.
Therapy is systemically and culturally prescribed from the limitations of a white social lens. REACHING TOWARD YOUR LIGHT suggests self-healing as an option for Black and IPOC mental health sufferers because now more than ever,  honoring and elevating heritage is crucial to redefining the life experience for yourself and your group(s).

Through rethinking life purpose into a dual-life purpose, discover how habit-forming, willpower, self-directed Q&A, and microdosing on life experiences will empower you to manifest a personal philosophy that allows you to enjoy your once-in-a-lifetime opportunity on your life's center stage.
Prologue: Loyalty Is Oppression
Part I A Smile With A Medium Side Of Ignorance
Chapter 1: Dear God, I Wonder Can You Save Me
Chapter 2: Btch Bad, Ngga Good
Chapter 3: Karma Doesn't Exist
Part II A Wave Of Mental Illnesses
Chapter 4: What's In A Name
Chapter 5: A Tale of Three Fathers
Chapter 6: A Trilogy of Trauma
Part III Breaking Free
Chapter 7: Don't Accept Yourself The Way You Are
Chapter 8: Microdosing on Life
Chapter 9: Leveraging Myself
Part IV Cultivating An Unbeatable Mental Health: Your Dual-Life Purposes
Chapter 10: Purpose #1:
Chapter 11: Purpose #2:
Chapter 12: